Today I had the honor to interview our most valued Vice-President. During this in-depth interview he mainly talked about his (board year) experience at CSA-EUR. I hope you will enjoy his answers as much as I did!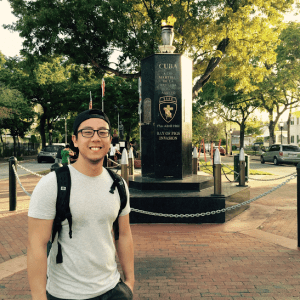 1. Who are you and what are your hobbies?
I am Fredo Tan and I am the Vice-President of CSA-EUR. I was born and raised in the Amsterdam area. Currently, I am a sophomore IBA student at Rotterdam School of Management.
One of my hobbies or passions is traveling. I am grateful for the fact that I have been able to travel to a lot of places in the world. I always told myself: "the farther away, the better". Hence, my travels to Asia and North America over the last few years. However, I realize now that there are also places worth visiting in Europe itself. Exploring Eastern Europe is something that has been added to my bucket list!
2. How would other board members describe you?
My fellow board members would hopefully describe me as a hardworking, dedicated and trustworthy Vice-President who is always willing to help out. However, I am certain that they would throw terms such as 'eats a lot' or 'likes to sleep' in the mix. Also, I am called the 'clown' sometimes because I crack jokes too often and laugh like a village idiot. Moreover, they would state that I am serious when I have to be and the funny guy on all other occasions.
3. What achievement as Vice-President are you most proud of?
I find this a hard question to answer. As the Vice-President, I am responsible for all external relations. This means setting up and maintaining relationships with partners, sponsors, and other stakeholders. I am happy with our current, expanded portfolio of external relationships due to the fact that CSA-EUR has a lot more cooperations nowadays. Having many good partners and sponsors means that we can offer our members benefits and discounts. It's key for next year to keep maintaining these relationships and further expanding this portfolio.
Furthermore, I am satisfied with how we as a board have managed to take this association to the next level by professionalization, pushing new ideas and the constant urge to do better.
4. How would you describe your board year experience?
It has been a truly amazing adventure from the get go. I am lucky to be part of board consisting of colleagues that are as dedicated and passionate about CSA-EUR as I am. Besides being colleagues, we are also friends with each other. The cohesiveness in the board has definitely been a strength this year. I have learned a lot during my term from the job itself, my fellow board members, my own committee and other active members. Also, I got to know a lot of people and made good friends. All in all, my board year experience is one that I will cherish forever and I would definitely recommend it to anyone who is considering a board year.
5. What was the funniest thing you encountered being a board member?
LOL. For now, I can't come up with anything good.
6. If you would win the lottery today and receive 10 million euros. What would you do?
First, I would buy a new phone because… I need a new phone. Of course, I would share the amount with family and friends. I would have my own startup company and invest in other startups. Oh, and I would also open my own gym just because I can. But before all this, I would make a glorious, legendary trip around the world that no one else can top.
7. Are you a hunter or a gatherer?
Chicks hunt me and I gather chicks.
Hate to point it out, but to all the hopeful girls out there: this great gatherer is sadly already taken. If you happen to be inspired by this interview and interested in a board year, please do this asap! The deadline is the 22nd of May. Link: https://csa-eur.nl/join/board-recruitment/