2016 was a special year- I was welcomed with open arms to the CSA family. Yet, there are great prospects for 2017. First of all, my Chinese friends Wu Wen en Xing Ya are coming to Ouwehands zoo this year! Together we will portray the symbol of friendship and keep the bond with China tight. Besides that, I have some resolutions to make 2017 even better!
Learn a new language

. I have always wanted to master the Chinese language. How cool would it be to learn the Chinese language with your fellow peers in an academic environment? CSA-EUR offers classes with student-friendly price, starting in the week of 17 January.

Work on your career

. Although I am quite young, I believe we are never too young to start going to inspiring career events.  Even though you are a first year or master student, there are plenty of activities on campus. China in Focus from 24 to 26 January will invite some interesting speakers and organize networking activities!

Meet new people

.  Last year, I met a bunch of awesome people in Blend Me In, Moon Festival and of course on campus. Want to cross this off your list as well? Meet me when you see me walking around campus or at social events of CSA. I would love to meet you!

Become active on campus

. Extracurricular activities are a

must

during your time as a student. Not only will it be beneficial for your career, you will also meet a lot of people. Basically, two resolutions in one! Keep an eye on our social media and website for upcoming recruitment periods. Who knows you will be our next president or marketing team member!

Travel more

. This is by far my favorite one. Especially, exploring new cultures even though you are on a tight budget. I cannot wait for this year's study trip to Beijing AND Shanghai in March for 10 days.

Never stop exploring:

Last but not least, I want to make sure that 2017 is not just a year passed by, but it's an adventurous ride.
Do you find yourself in this list? What are your new year's resolutions? On behalf of CSA-EUR family, I wish you a happy 2017 and we will see each other soon!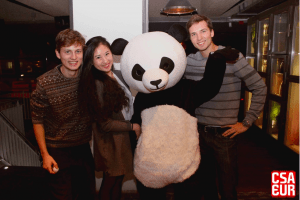 Lots of hugs,
CSA Panda