China in Focus 2016: China from different perspectives!
CSA-EUR is proud to announce that China in Focus will take place from the 19th until the 22nd of January! This year's speakers will talk about various topics related to China, e.g.sustainability, experiences with Chinese tourists, working in China and many more!
Chief executives and regional managers of the most renowned companies will share their experiences with us, e.g. PwC, Lenovo and Rabobank!! Are you eager to hear what the global decision makers have to say? Sign up here to attend the China in Focus 2016. Seats are limited and registration is on a' first come, first served basis'!!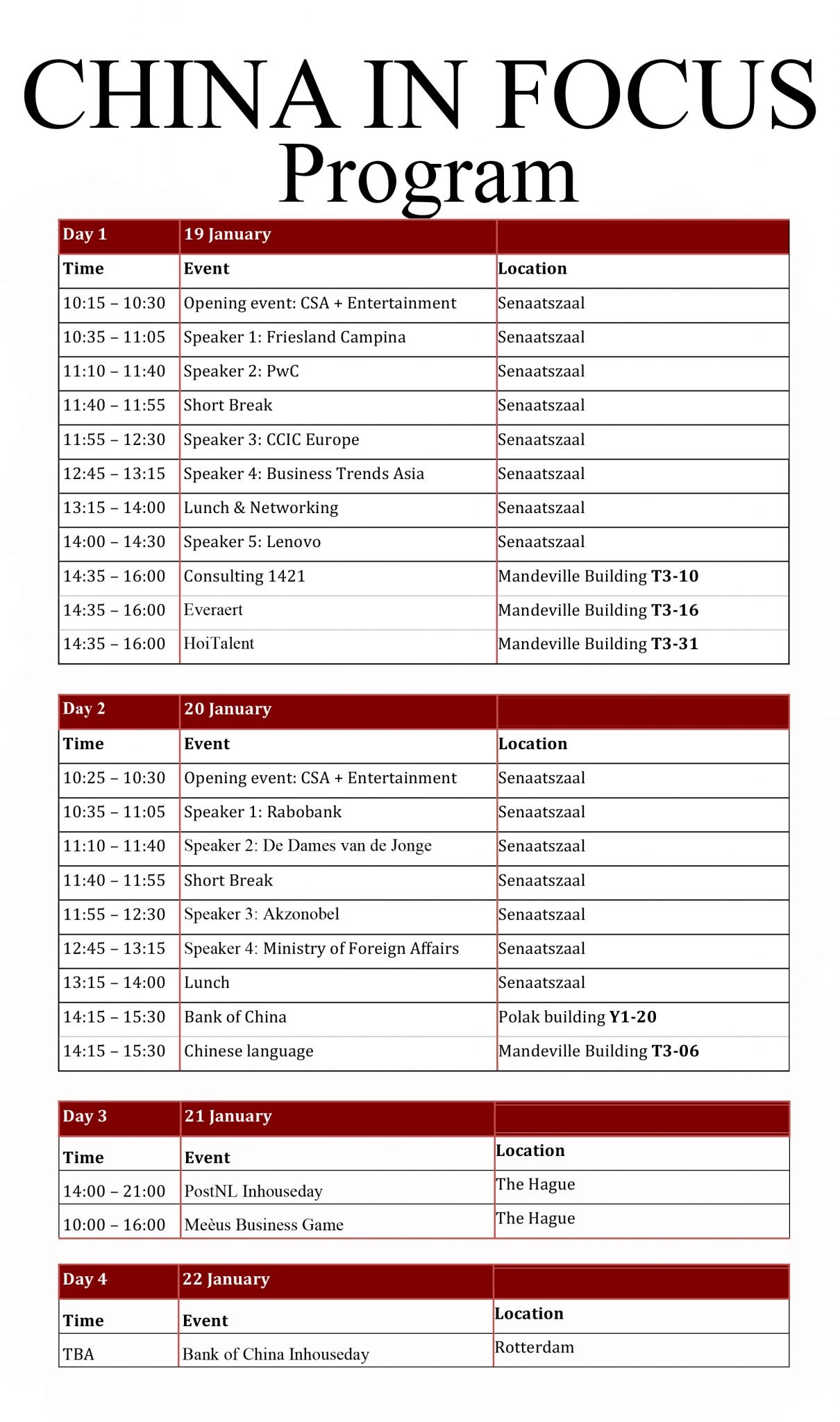 Workshops Day 1
HoiTalent: Secret weapons for job hunting in the Netherlands as an international
HoiTalent is the largest job portal for international talents in the Netherlands. We provide non-Dutch speaking internship and full-time position information for free. At the same time, we have a team of over 40 coaches of different nationalities and background working at multinational companies, providing 1-2-1 career coaching to job seekers, from career orientation, CV and Cover Letter critique, Interview training to industry talk. The ultimate goal of us is to help international talents to get their dream job offers as soon as possible!
Workshop introduction:
You know, according to a statistic study, more than 70% of international students would like to find a job here in the Netherlands, but only 27% of them succeed. We would like to work with you to shrink this big gap!
In this workshop, we will bring you:
Awareness on the difference of Dutch and Asian culture
Tips on how and where to find job opportunities
Secret weapons for preparing your CV
The workshop will be delivered by the co-founder of HoiTalent who is from China originally and has been helping over thousands of international talents to
start their career in the Netherlands.
1421 Consulting Group: "Staying Chinable, staying compliant!"
A workshop teaching about the importance of compliance. Due to many different factors staying compliant in China, both for locals and foreigners, becomes increasingly important. Michael Pronk will introduce you to the world of staying compliant.
1421 Consulting Group (1421) is an organization providing consulting and services to maximize success for western companies doing business in China. It is aimed at bridging the gap between the West and China.
1421 Consulting Group has developed two separate trajectories aiming to optimize the chance of success for western companies in China. The first trajectory is created for companies who have no activities yet in China. Central to this customer segment is analyzing where the potential lies. The second trajectory aids companies already active in China to reach their full potential. This process aims at analyzing a company compared to the chances in the market and implement changes necessary to grow.
Everaert Advocaten Immigration Lawyers: Dutch Immigration Programs for Graduated students
Everaert Advocaten Immigration Lawyers, with its establishment in 1982, is recognized nationally and internationally as one of the leading firms in migration law in the Netherlands. Be it for a short term residence permit or permanent residence, we offer our clients tailored migration solutions. We are also available for migration related legal procedures, such as acquiring Dutch nationality, and international adoptions. Because of our up-to-date knowledge of national and international laws and regulations regarding migration, as well as ongoing developments in this field we are able to provide our clients with strategic advice and effective solutions to specific migration issues. From partners, senior associates to junior associates, there are thirteen lawyers working at Everaert. The main language in the office and in correspondence is Dutch and English, however we are also able to communicate with our clients in German, French, Russian, Spanish, and Mandarin.
Recap: China in Focus 2015!
Workshops Day 2
Bank Of China: One belt one road initiative
Ruibin Lu is going to talk about the "One belt one road initiative" during the workshop. Ruibin started his career in 2009 in Bank of China Head Office. Till 2014, he was a risk manager in Non-Performing Asset Management team. Due to the expansion of business overseas, he was sent to BOC Rotterdam Branch as the head of Business Development Dept., and currently Ruibin is responsible for corporate banking and financial institutions.
Bank of China was formally established in February 1912 following the approval of Dr. Sun Yat-sen. As China's most internationalized and diversified bank, Bank of China provides a comprehensive range of financial services to customers across the Chinese mainland as well as 41 countries and regions. The Bank's core business is commercial banking, including corporate banking, personal banking and financial markets services.
CSA-EUR: Exploring the Chinese culture
Besides business symposiums, we also offer Chinese culture seminar that lasts for approximately one hour. Our Chinese language teacher from CSA Education Committee will give a short introduction about Chinese dynasty, geography and current demographics. Moreover, you will explore traditional Chinese philosophy consisting of Taoism, Confucianism and Buddhism, which deeply influence Chinese people's mind and way of thinking!
Description workshop calligraphy:
In this workshop you will have a visual feast for Chinese calligraphy - not on screen, but live! This fabulous calligraphy live show will give you a different look at Chinese characters, the shape and form of which can vary so differently with the same brush. You will also be able to learn how to do calligraphy yourself!
Seems interesting? Join our Chinese culture seminar and explore a new China to refresh your mind in one hour!