As members of IR Committee of 2012-2013, we would like to thank the participating students of the Study Trip for their participation and thus ensuring the quality of this journey. The  various nationalities and backgrounds of the students ensured a pleasant group dynamic during the trip. Also, we would like to thank the visited companies, which are Bosch, Neusoft & Trigiant, for its hospitality and support towards our students. We specifically want to thank these companies for openness and giving us insight into the Chinese markets.
The participating students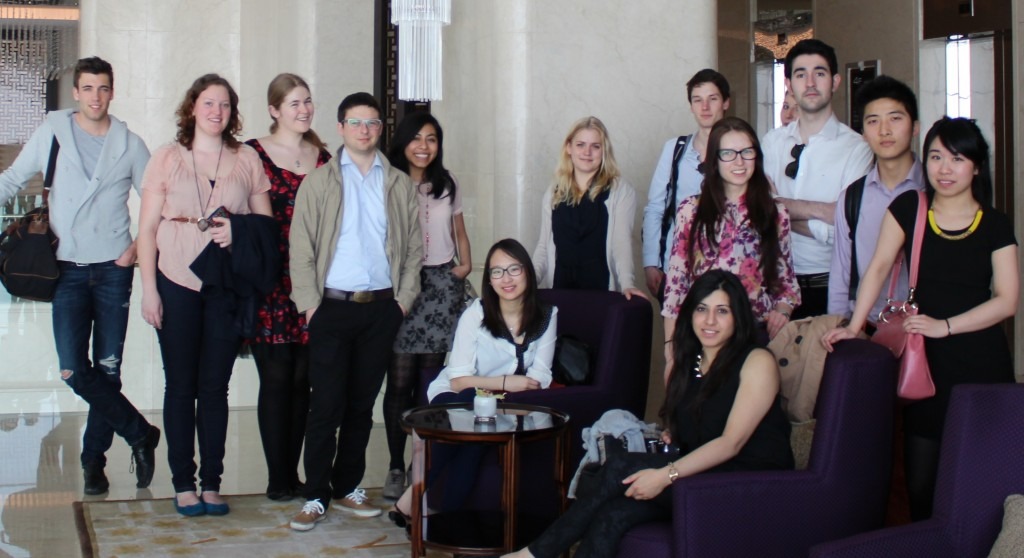 From left to right: Dominic Olbrech, Anne Somsen, Gaby Baars, Simas Narusis, Alexandra Diaz Montenegro, Angelina Li, Rita Bach Omdal, Alex Schutz, AIste Luksyte, Fernando Perello, Billy Shen, Kachu Man, Salvini Datta. Missing in the picture is Sonja Garbrecht, as we thank her for taking this group-picture.
The journey through the amazing metropolis city that is Shanghai
Day 1: Taking off for the most dynamic city and ever-morphing metropolis that is Shanghai
Finally, the first day of the Shanghai Study Trip has arrived. After waking up to gather and meet at Rotterdam Central, this exciting journey starts off by arriving at Amsterdam Schiphol, getting on the airplane, and arriving at the final destination: Shanghai. After a 12-hour flight, we arrive at Shanghai Pudong Airport feeling tired, but mostly exhilarated. After being picked up by the coach to bring us straight to the hotel, we got an hour to get ourselves ready to go for the very first group dinner at the local Chinese restaurant near the hotel. After the dinner we went straight off to the Hyatt Bund Hotel, where we sat down for a drink at the Vue Bar on top of the hotel, taking pictures on the outside terrace which boasts a Jacuzzi, day beds, and amazing views of the Pudong skyline and The Bund.
Day 2: Kung fu, calligraphy, Shanghai Sport University, Neusoft
The day started very early we got up at 5:30, because group meeting was at 6:10 in the lobby. We actually made it on time and left to Shanghai Sport University. It was ca. a 40 min travel and we were amazed by all those massive skyscrapers and living estates surrounding the city. Arriving at the Uni we had a quick look at the main building where all sorts of people did their morning exercises including grandmas training with swords. Soon, a friend of Billy's arrived; he was our coach for that day. He introduced us to the very basics of Tai Chi and showed us some martial arts moves at the end. After our work out session we headed to the building where a classroom was reserved for us in order to practice some Chinese letters. The instructor we had was deep into the whole Calligraphy We learned about the basic technique of how to write. Then we could choose from a couple of words, which we want to write. I, for example tried to write "success", which turned out to be more difficult than I expected. Soon everyone was hungry and we explored for a couple of hours the area close to the University, which was really calm, clean and beautiful. In a coffee house we gathered, talked and exchanged our knowledge about certain movies…especially Billy was happy to introduce us to "not-so-common movie genres". We then left to the company "Neusoft", which produces futuristic software products for many applications. The company is located in an industrial district and was very modern and nice. The company logo however reminded us heavily about Microsoft… Inside the building we were lead to a special room for company visitors, where we were able to watch in introduction movie about the company. All in all, the company made a very sophisticated impression and its substantial profits underline this fact. At the end we had a small Q&A session with company employees. The rest of the day we all had some free time. We went downtown and explored the Bund, which gave us amazing views on the city of Shanghai. We used the time to take some pictures and to explore the city. Furthermore we did some shopping. At the end of the day we fell overwhelmed and tired into our beds and excited about the next day.
Day 3: History of Bosch, Fudan University
Our third day was long and exciting. We started out day by gathering in the hotel lobby at 9 am to take the bus to our company visit at Bosch in Suzhou. We reached after an 80-minute drive and were kindly welcomed by Lu Hope. Our first presentation entailed a glimpse into the history of Bosch Group Bosch and then a presentation by their foreign manager about China Business Development. The next speaker was Benjamin Petry, a young German student following a six-month internship; he shared his cultural and professional experiences in China with us. After three hours of presentation and Q&A rounds, we were given a plant tour on our way towards a lunch hosted by Bosch. Wu Jun guided us through the production processes and we got a sight of the factory. After lunch, we had an impromptu final Q&A round with one of the senior managers before heading back to Shanghai. After the company visit at Bosch in Suzhou we went to Fudan University in order to get to know the local students and their life there. The local students greeted us nicely once we've arrived at the university. They gave us a smart introduction of themselves and subsequently gave us a tour of the university. First of all, the tour included a museum visit about the history of Fudan University, it tells us, inter alia, about the starters of the university, the closing during the Cultural Revolution (1966-1976) and the opening after the revolution etcetera. Secondly we went for a high tea at a café in their campus, we had a nice chat there with the local students and got acquainted with them. Finally, the local students took us for a Korean barbeque nearby the university. It was a cosy place where we could talk more with the students. They were all very interesting; I even became friends with some of them! After the university visit at Fudan, some of the students went home and our study trip group split up in two. The shopping in Shanghai is nice and convenient so the ones who went shopping visited a shopping mall and had a nice walk. Outside the shopping mall there were also some nice shops, cafés and restaurants. After this, the group reunited briefly at Helen's hangout. The ones who went directly to the local student bar walked a distance of a 10-minute walk from the Fudan university campus, but it lasted a little longer since we were walking separately from two of the local students joining us. Once we reached, the bar ended up having no vacant tables. We finally managed to sit at a table where a Chinese man was sitting alone. Although it was odd that he was willing to sit at the corner of a table being taken over by ten international students, he seemed untroubled by us. Once we were sitting down, I noticed the bar's interesting layout, with writings and pictures posted all over the orange walls. The crowd was a mix of cultures with casually dressed students and people dressed for clubbing. All in all, the vibe in the bar was nice and lead to a good closing of a long day.
Day 4: Zhouzhang, ancient Chinese town
Off we went in the VIP-Happy Coach, keeping occupied with a round of the frantic, high-intense game 'Alias'. We drove to one of Chinas oldest water towns, Zhouzhuang. Safely there, we found some beautiful and affordable hats to protect our fragile heads from the sun. One extra delicate person got a sun-umbrella. The day in Zhouzhuang kicked-off with feeding. We ate noodle-soup and sugar-with-tofu that arrived in cute mini-boats. In between the small and charming streets by the waterways of Zhouzhuang, we found hundreds of beautiful little stalls stuffed with souvenirs, food, rice-wine and more. Some got bitten with the bargaining virus, and silk-scarves were especially hot currency. Later, a celebrity séance appeared when a dense crowd of Chinese tourists got highly enthusiastic with their cameras. Apparently they had never seen a blonde white girl and a Spanish guy with chest-hair munching dumplings before. After Zhouzhuang, dinner was served in a restaurant in the middle of nowhere. Chinese dishes appeared arbitrarily in front of the hungry crowd, who hoped that Billy had not ordered something too strange. The night had only just begun for the party-crowd; starting off with a memorable time by The Bund, playing some awkward rounds of the CSA official (?) drinking-game, "Never Have I Ever". Later it was time for Club Mook. Here, the perfect mix of what you would expect from Shanghai appeared. The smooth Chinese chillaxed in their sofas, while the western crowd stirred up the dance-floor and a conspicuous artist performed on stage. All in all, the night we lost our minds to the Shanghai nightlife. Meanwhile part of our group was too tired from the exciting days before and instead of joining the trip to Zhouzhuang decided to explore Shanghai in more detail. After being able to sleep in, our cultural agenda directed us to the Confucius temple. Although Shanghai is in many ways a city of superlatives, especially with regard to the proportions of buildings, the temple itself was humble. The courtyard was turned into a quirky book market, but unfortunately we didn't find any appealing editions, i.e. written in Latin script. The more we were delighted by a short guided tour, which included some tea tasting and of course the possibility to buy assorted handmade tea roses and various incense sticks. Our guide was an amiable Chinese girl in her 20s and she did her best to explain to us the many different medical and mental health effects of the different tea sorts. After lunch in an admittedly a bit western restaurant, which nevertheless offered delicious dishes with an Asian touch, we made our way to Tianzifang, located in Shanghai's French Concession area. Being Shanghai's arts and craft quartier with labyrinthine alleyways Tianzifang bestowed us a lovely afternoon, also leaving time for bargaining for some souvenirs. After chilling and enjoying the sun in a park with a small lake we made our way back to the hotel to prepare for our tonight's desired location: Bar Rouge. The club on the Bund is among the city's top nightlife locations; at least the awesome view from the terrace of the Shanghai skyline will surely stay in our minds.
Day 5: Shopping, bubble-tea & Tianzifang
We started the day later than we thought we would due to the amazing party the night before. With every intention to go home early and sleep, we stumbled in around 4:30, which meant we started our free day around 11:30 tired and starving. Our first thought, "BUBBLE TEA." Our day had begun. We quickly found comfort in ice-cold bubble tea and weird Chinese bread that was more cake than bread. We headed to the centre to see the Jing'an Temple and found it was more of a shopping mall than a Temple. We indulged in fruit and yoghurt, which was really needed at this point in the trip. We then head out to find the electronics market. We walked for hours, but Shanghai is simply too big to cover by foot. We saw many culture differences during this walk though. It was interesting to see that many Chinese couples didn't show public displays of affection like we are used to in the West, but instead wore matching outfits. It's a different way to show love for one another than we are used to. On our walking tour of Shanghai we ran into a baby bunny in a cage just sitting on the side of the road, in the full midday sun. It had no food or water and was obviously for sale. Though the bunny seemed a little down on its luck, it was the friendliest bunny in the world that was very enthusiastic towards anyone giving him attention. When we tried to give it some water the woman who owned the bunny came out of her house and managed to make clear to us that it was on purpose that the bunny didn't have any water, because she didn't want him to pee, because she didn't want to clean the cage. Unfortunately we had to leave the rabbit behind, as there was nothing we could do for it. We didn't have any luck finding the market (later we were told we were almost there which is sad) and so we stopped for Japanese noodles. We then gave up on the market and went to tianzifang. The shops there are so interesting to see. We were drawn into all the young Chinese artists. After some searching we found the most delicious Chinese Japanese mixed food. After a lot of cheap good food we wondered around for a while longer too sick of bargaining to really try our luck anymore before heading to the hotel for a much-needed sleep. We later found out the free day was eventful for everyone. Kachu spent the day talking to police after losing her passport. Many others went shopping for most of the day. Some of the boys and Aiste found themselves nice suits and coats.
Day 6: Hangzhou and the beautiful Westlake
On April the 15th we prepared ourselves for our last company visit. After hours of a fun trip in our very comfortable private coach, we arrived to the city of Yixing. Yixing is an industrious promising city, located at the province of Jiangsu; a place where local Chinese industrious people are preparing, in order to suit the demanding tastes of the future business internationals that are expected to flood the country and city in the coming years. As future business leaders that we are, we were invited by the company to the newest business hotel, built in the heart of Yixing! A marvelous, elegant tower, capable of hosting hundreds of visitors and equipped with a restaurant that offers international cuisine that enchanted our palate. The Chief Manager of the hotel then offered us a private tour, guided by herself. She showed us all the facilities and the amazing installed capacity of the hotel. One clearly feels that this is a place where deals can be sealed. After our extensive lunch we went to a park, located near Yixing. We drove around in several golf carts, and were given a tour around the area and the local temple with stairs that go all the way up to heaven! Finally, we arrived to our main destination: Jiangsu Trigiant Technology Co. Ltd. This company is established in March 2007, and is now one of the leading PRC manufacturers engaged in research, development and sales of many accessories used in mobile communications and telecommunications equipment. We got a tour and gained some insights in the local centers and working environment, and afterwards we had some time to do very open Q&A session. After the company visit we hopped onto our VIP bus again and we drove to Hangzhou, where we had a few hours for ourselves. After settling in the Sunny Huansha Hotel Hangzhou, we all went out for dinner, and had a relaxing closing drink at the local Jazz bar. As they say, when in Rome…or in this case, China. Drink and eat like the locals do! The Jazz bar was located directed across the West Lake, which gave us a magnificent view on the lake. Some of us had the time to enjoy the light show that was going on, and some of us stayed with their wines and beers with the relaxing jazz music in the background.
Day 7: Journey on the bus and drinks at the bar
The day before our group arrived to Hangzhou – a lovely and beautiful place full of tourists. We were very lucky to spend a night at Sunny Huansha Hotel, which was extremely close to the nicest places anyone would enjoy visiting. As scheduled, on the 16th of April all the group members had some spare time in the morning and could decide on what to do during it. Even though most of the people were spending their morning separately, by accident most of them met each in the lobby. And the reason is very clear. We had only a few hours until we leave and everyone wanted to take the most of them. Some people went for a walk around the West Lake and had a guided tour, whereas the others decide to allocate their time on shopping. There were also students who managed to both! Around noon we all gathered at a bus and started our journey back to Shanghai. Everyone shared their experience and thoughts about Hangzhou. It seemed that we very much enjoyed the place. However I could sincerely tell that the luckiest and the happiest girl on the coach that day was Kachu. Treatments from Billy's mom and a nice new friendship with her made our amazing organiser feel even more pleased and we wish her to get on well with hopefully her future mother-in-law! <3 The journey to Shanghai took a while and once we arrived to the area where the hotel had to be located, our driver could not find it. Some people started getting a bit anxious, but it was WORTH waiting. The last hotel we spent our last night at was more than adorable. Very posh, well equipped and also much closer to the centre of Shanghai than the one we stayed before. Even though it would have been nice to chill out for a while and relax, our beloved men had to rush to the tailors to pick their suits. Luckily at the end of the day they felt relieved and satisfied, because the jackets and the trousers were of the right size! In the evening the participants of the study trip went out for a dinner and for a dance. It was absolutely amazing to spend the last night together and the authors of this diary feel very sorry that they had no energy to join. They bet the night out was more than delightful. As expected people were partying very hard and some of them had to experience the consequences of it, but as we had a long flight waiting for us in the morning, we hope everyone had enough rest! During the study trip some people have also overcome their fears, but as we all know – WHAT HAPPENS IN SHANGHAI STAYS IN SHANGHAI
Day 8: Goodbye China
Day 8 was the day for take-off. Saying our goodbyes to the beautiful city of Shanghai, and China in all its glory. Hope to see you next year!
The sponsoring companies