Introduction
We are excited to announce that for this year's study trip we will be going to not only one but three major cities in China: Hong Kong, Shenzhen and Guangzhou!  
We will be visiting Hong Kong as the city is filled with Western influence combined with Chinese roots and discover the mixture of cultures. Furthermore, we are going to explore two booming manufacturing cities Guangzhou and Shenzhen.  There are many undiscovered attractions to visit and the successful stories of the established companies to hear. The shimmering lights of the most admired skylines are also in these three cities. What are you waiting for? Come join our journey and explore the Southeast part of China with us!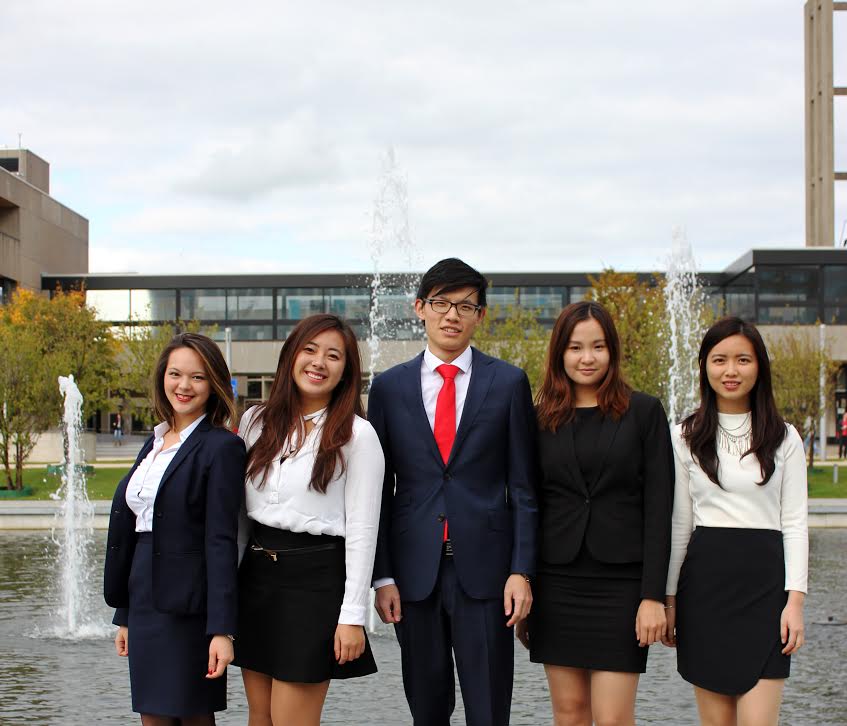 From left to right: Çanci Apon, Carmen Chi, Jun Xian Weng (Head of IR), Jessica Tang, Summer Tse
Çanci Apon
I joined last year's study trip and came up with the ultimate excuse to go again: being part of the international relations team. This year, my responsibilities include (but are not limited to) the university visit and cultural activities.
Carmen Chi
As part of the IR committee, I am also responsible for arranging company visits and activities to make sure you have an amazing experience during the study trip. On a side note; be sure to ask me if I know how to get to the location, as I do not have a sense for directions at all.
Jun Xian Weng
I am the head organizer of the Study Trip 2016. I will make sure that you will have a memorable adventure in the far east.
Jessica Tang
I'm responsible for giving my insight on practical matters and translating during the Study Trip, since I had lived for more than 10 years in Hong Kong and Shen Zhen. Cantonese is my mother tongue and I'm fluent in Mandarin.
Summer Tse
As an active member of IR committee, I am responsible for searching for accommodations, companies and fun activities for our study trip. I am very excited that we will be visiting these three major cities in Canton since my roots are from here!
University Visit
Sun Yat-Sen University
This university was founded in 1924 by Sun Yat-Sen, also referred as "Father of the Nation" in the Republic of China. The university is a cultural balance of the old, ancient and modern and is ranked about third throughout the nation by the largest accreditors. During our visit, we will be accompanied by international students to introduce us to the ambiance of studying there. Furthermore, Sun Yat-Sen will be offering a lecture about doing business in China where we will be able to hear the ins and outs of businesses in China!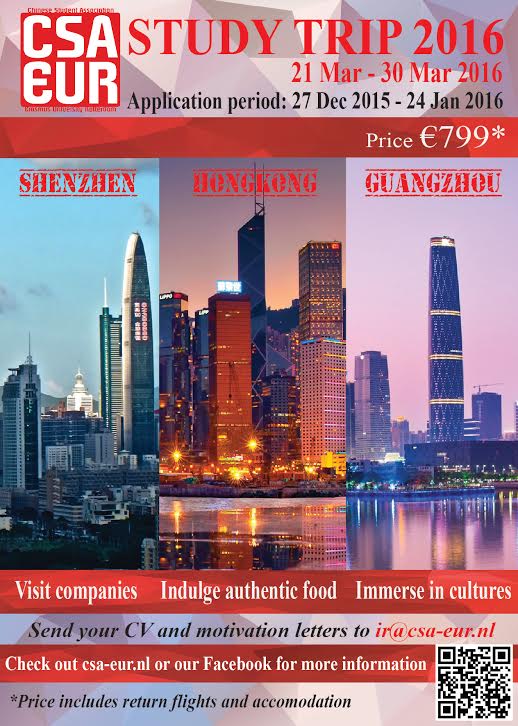 When will it take place
The study trip will take place from 21st of March 2016 until 30th of March 2016. We will be staying in Hong Kong for 4 days and the remaining days we will be exploring Shenzhen and Guangzhou!
Costs
The price for our Study Trip 2016 is €799, which includes the flight tickets, accommodation, Hot Spring entry ticket, most of the transportation costs, and selected group activities costs.
How to apply
To sign up for the Study Trip 2016, you can send your CV and motivation letter (max. 1 page) to ir@csa-eur.nl. Based on these we will select you for an interview at our office N3-07 at the Erasmus University.
You can submit your application from now until January the 24th, 2016. We aim to inform you of our decision as quickly as possible, but you may not receive a decision until the end of the deadline.
Company Visits
Rabobank
Rabobank is a leading customer-centric cooperative bank in the Netherlands and also a leading worldwide food and agriculture bank that has over 8.8 millions customers. We will be visiting Rabobank located in Hong Kong and explore the Eastern side of banking in the regional center of competence. Established in 1990, Rabobank Hong Kong Branch is a fully licensed bank as it also offers a wide range of financial services in the Greater China region.  
EY

EY is one of the "Big Four" accounting firms headquartered in London, United Kingdom. It was established in 1989 and has 212,000 employees in over 700 offices around 150 countries worldwide. EY is one of the most admired companies that also won the award of "Financial Advisor of the Year" in 2015. We will be visiting EY in Hong Kong so come and discover their service lines that include Assurance and Advisory Business Services, Tax, and Transaction Advisory Services with us!
Simpexs
Simpexs is an American-based global sourcing company, which belongs to Concordia Group Limited. The company shops around the world greatest trade shows to offer its consumers latest and most innovative home fashion products. Their main customers are Costco, The Home Depot, Makro and so on. By maintaining a multilingual workforce, who works closely with its multinational clients and factories, the company is able to provide high quality products and service. Simpexs has more than 10 years of experience doing businesses in China. We will be visiting Simpexs in Shenzhen, and we can't wait to hear Simpexs shares its story of success!
DB Schenker

DB Schenker is one of the world's leading providers of integrated logistics services that offers land, air, and ocean freight concepts as well as logistics services for trade fairs, relocations, projects and large international sports events. With headquarters in Frankfurt, DB Schenker has over 95,000 employees with 2,000 offices in 140 countries worldwide. The company opened its doors in Hong Kong in 1966, and established in Mainland China as one of the leading international forwarders in the late 1970s.